America's mad lie: «Russia menaces with death to Aleppo's civilians» (PHOTS, VIDEO)
Опубликовано: 18 ноября 2016, 1:26
Категория:
Политика
Western media tried to discredit Russia's and Syria's attempts to diminish destruction and suffering in Syria once again.
As reported Russia and Syria suggested that the terrorist groups in blocked city disctricts leave the city and set civilians free, especially sick and wounded. That suggestion came after terrorists' attept to force a passage to Eastern Aleppo from the South.
On November 4th a humanitarian pause was set starting from 9 am till 7 pm. There were two corridors opened for the terrorists to leave, another six — for the residents to leave. This was informed in leaflets dropped from Syrian helicopters over Eastern Aleppo.
However some Western media with a reference to Twitter supposedly belonging to a «seven years old Aleppo girl» who manages to post more than 140 tweets a day with her mother's help, reported that the Russians were panning to kill everyone who didn't leave from Eastern Aleppo during humanitarian pause.
The Sun's title screamed: 'GET OUT OR DIE' Russians drop warning leaflets ahead of massive Aleppo BLITZ – as terrified families tell the world to 'pray for us'
Except that Twitter account was a total fake the leaflet in the article was also wrong. There is the appeal of the Syrian army's acommanders to the terrorists. Those leaflets, as you know, were dropped over Easten Aleppo some time before.
The appeal says there is no help coming instead there is a possibility to leave through the special corridors. And that is better than death. Well what else could the Syrian commander tell to terrorists taking into account there are so many foreigners among them.
The photo shows Chechen fighters in Aleppo
But it's understandable that those who want more war and blood in Syria would throw quite another light upon the events. On October 26 US representative to UN Security Council Samantha Power blaimed Russia saying that the leaflets were addressed to civilians not the terrorsts.
But Powere did not mention the leaflets which were really addressed to the residents of Eastern Aleppo. Despite they were published by the American media.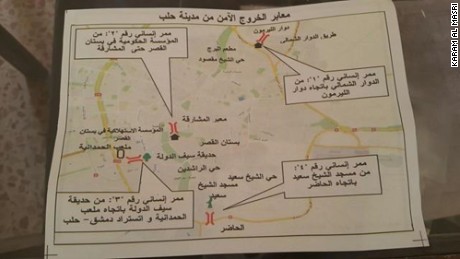 This time Syrian (not Russian) helicopters dropped over Eastern Aleppo almost identical leaflets.
This is a specimen provided to «Russian Spring» by a military source:
Front side bears a maps with all the leaving routes marked (both for the terrorists and civilians), back side — text of appeal of Syrian Command-in-Chief to members of illegal armed groups and «dear compatriots and fellow citizens» (!) in the Eastern regions of Aleppo.
There is information concerning humanitarian pause's duration, 2 corridors for terrorists and 6 corridors for civilians, sick and wounded.
Then there are recommendations concerning procedure and behaviour during leaving. That is all.
These were the real leaflets which had been dropped over Eastern Aleppo and contained information about humanitarian pause.
But it's not the first time Western media use blatant lie to smear and vilify Russia's actions in Syria.
Not so long ago British Sky News attributed Aleppo's historical monuments destruction to Russian Air Force. Disregarding the fact that all the photos in teh article were made before 2014 (i.e. beforr Russia's operation in Syria commenced), and all the destruction was brought mostly by the fighters and terrorists.
READ ALSO: Who turned Aleppo into ruines? — "Russian Spring" investigation (PHOTOS, VIDEO)